By: Taylor McPherson, Director of Communications and Community Engagement
From a high-level overview, the infrastructure industry is looked at as a numbers game by some. For instance, 15,000 tons of aggregate are needed for the average size school or hospital. Paving projects vary in their makeup, but in some cases can consist of 20,000 tons of asphalt or higher.
Thus, it takes reliable equipment and operators to see the vision of thriving communities come to fruition. But just as important are the repair mechanics working behind the scenes to keep this fleet of machinery running like a well-oiled machine. That's where our Asset Management (AM) Division Repair Mechanics – Danny Sexton, Michael Justice, Chris White, Jeff Turner, Jimmy Hurt, and Teddy Willard – share their expertise.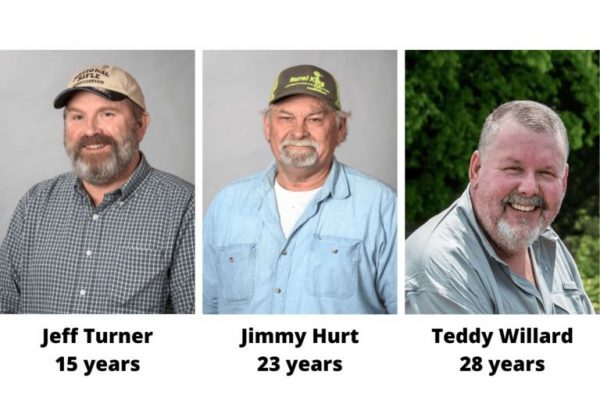 A typical day for these guys begins with an early start. Depending on the needs of our team, they may be tackling repairs late into the evening. What follows in between those hours consists of preventative maintenance and repairs needed for the operation of equipment, whether it be at an asphalt plant, aggregate wash plant, or even a paving crew in the field. Some days, it may be as simple as changing a tire on equipment or as complex as diagnosing electrical issues. However, in most cases, this team is traveling directly to each site to conduct these repairs.
While some may think that diagnosing a mechanical issue may be challenging enough, the AM Division Repair Mechanics also have an array of other factors to consider – the location for the needed repair, the logistics of matching up the repair time with parts sent out for delivery, and the elements they are making these repairs in. One element that comes to mind during peak season is the intense heat of the Mid-South.
Two leaders within our Production Division, John Paul Finerson and Eddie Ragsdale, mirrored this sentiment by sharing, "Asphalt is around 300 degrees… These guys are walking up to equipment that's already hot on top of that and working to get it back up and running."
Yet, with these challenges aside, this has been a strong team within the Asset Management division for more than a decade. Tommy Renfro, Maintenance Shop Manager, shared what he thought to be the reason for their lengthy tenures. "On a daily basis, I think the reason all of these guys [are still here after so long] is because they exemplify all of our core values."
Matt Cox, Director of Asset Management, remarked "The biggest one that stands out [to me] is stewardship… We think of it as taking care of or making good use of what we've been given. That is the entirety of these guys' job. The mechanics are really the enablers of this." He added, "The second biggest one is relationships. It's the relationship between the mechanics and operators, as well as the mechanics and vendors. And so, the better the relationship is between the operators and the AM division, the more smoothly the whole repair process goes."
Roger Hickam, our Fleet Maintenance Planner/Scheduler, joked that he was "connected at the hip" every day to this team but shared his admiration for their ability to pivot. He went on to add his praise for their insatiable desire of continuous improvement. "They go outside the envelope to make sure something is running instead of just sitting back on their heels."
In addition to a display of core values, the AM Repair Mechanics take safety to heart. Tommy went on to say, "We have a display board in the shop [that shows] 891 days without a chartable incident. They're all working towards safety goals." Matt added, "They do some of the most difficult and most at-risk work and yet, they have a top safety record. They take the whole Live Safe Work Safe mission seriously."
It's impressive to have one teammate go above and beyond, but to have six on a high-functioning team is quite the feat. Tommy closed with, "They're a great bunch of guys and I'm proud to be associated with every one of them. They're the core of what makes the AM [repair] division run. They're the ones that make things happen on a daily basis."
The list of why we applaud and treasure this team goes on and on. To Danny, Michael, Chris, Jeff, Jimmy, and Teddy, we thank you from the bottom of our hearts for your commitment to help "the rubber meet the road!"