*Photos from the family of companies' most recent participation in MLK Day of Service 2023.
"While our mission statement – 'helping communities where we live and work to thrive' – includes building infrastructure, it also emphasizes the impact we can have when lending a hand to our fellow neighbor," said Taylor McPherson, Director of Communications and Community Engagement. "Our aim with this community engagement program is to support a brighter future for the Memphis and North Mississippi communities that have so graciously supported our family of companies over the years."
Lehman-Roberts/Memphis Stone & Gravel won the award for their community engagement program, which serves more than 20 non-profit organizations. The company believes this program is the true culmination of their mission statement: "Helping communities where we live and work to thrive."
Each year, the company's employees spend Martin Luther King Jr. Day fanning out across the Memphis and North Mississippi community for a Day of Service, which includes 35-40 light construction projects for local non-profit organizations. The team also hosts field trips for youth and parents to show them their minimally invasive surface mining process and earth-moving tools. These tours help build relationships with community residents and foster industry allies. Other community engagement activities for 2022 included a food drive, cleanout of a veterans nonprofit facility, a St. Jude fundraising dunk tank at a company picnic, and other miscellaneous monetary donations.
"NAPA members strive for excellence beyond constructing high-quality asphalt pavements. The Community Involvement Award recognize a company's commitment to operations that make them good contractors, good industry ambassadors, and good neighbors," stated said 2022 NAPA Chairman James A. Mitchell.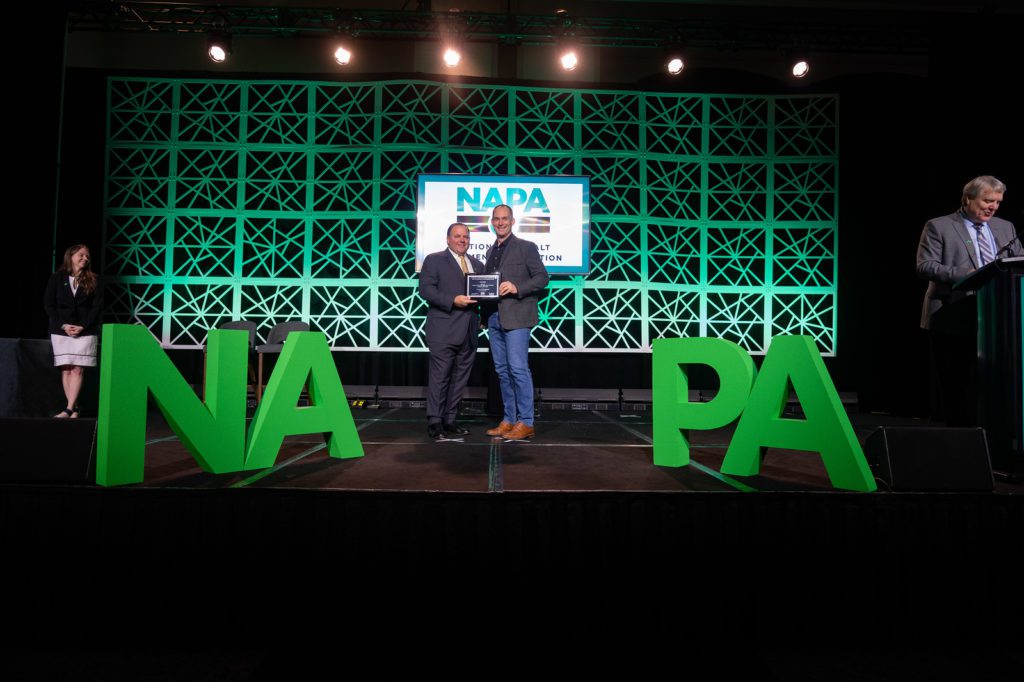 NAPA's James Mitchell (left) pictured with Lehman-Roberts' Jeremy Ramberg (right)
*Photos courtesy of NAPA